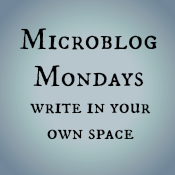 So, earlier this year my mom had a biopsy on one of her breasts and one of the samples was cancerous. At this point the tumour appears to be very small and the first step is surgery to remove it (lumpectomy). They will also analyze sentinel lymph nodes to see if there is any cancer there.
I feel like I have to post something about it in this anonymous space so I can get used to the idea of talking about it. I'm kind of at a loss of how to talk about something like this.
My mom is doing fine. So far she seems to be getting great medical care, and the team assigned to her has kept her informed and empowered. She has been very clear that she does not want everyone getting overly excited and anxious. She wants to keep up her overall health and continue her daily life. I am trying to follow my only advice to her, which is not to imagine too much about the future, so that one does not live through experiences that haven't happened and may never happen.
Last week I spent an afternoon at my parents' place with AJ (yes I have found the nerve to drive on my own) and it was a great visit. We did talk about the cancer but mostly we talked about other things. My mom said that her main regret is that she has to deal with this just when she has a new granddaughter, but that she really wants AJ to remember her.
I said, then we're going to assume that AJ will remember her, and that her Baba will be part of her life.
Read the Microblogs and leave your link