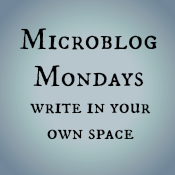 First, the good:
I think it's finally sinking in, on an deep emotional level, that I was pregnant and had a baby and
nothing bad happened
. After the bleeding episode last year, I sort felt like I was living two lives: in one life I'd lost or was always about to lose the baby, while paradoxically in the other, everything was going fine. Some days I'd wake up living one life, sometimes the other. Lately, it feels like I'm able to actually accept that everything turned out and is OK. I can recall
stuff that happened
without the terrible sinking feeling of horror, rage and grief I used to feel. I just feel.....neutral. I guess it took a year?
On the other hand...
Sometimes, usually when I'm contemplating something I haven't done before as a parent, I get paralyzing, heart stopping anxiety. Such as the first time I planned to drive alone with AJ. Luckily with some support and practice I seem to have gotten over that and we drive around regularly. There are so many advantages like being able to run errands, go to mom and baby yoga and visit my parents regularly.
The latest thing that's making me anxious is the prospect of leaving AJ with a babysitter for the first time. The story is, last year my colleague and I taught a session at teachers' convention. It was well received and we decided to do it again this year; actually we applied to and were accepted at two conventions. We also planned the session to be twice as long so that we could have time to workshop with people. At the time I was pregnant and having baby and arranging childcare was all very abstract; I just assumed things would work out.
Fast forward to now with the sessions coming up in two weeks. For the second one Mr. Turtle will be home with the day off, so not a problem, hopefully. The first session though I need to arrange something. I'd assume initially that my parents would step up, but now my mom has surgery scheduled for that week so she is out. Luckily, one of my close friends offered to watch AJ if I needed it. She does not have her own children but has nieces/nephews and is a trustworthy person with common sense. So on a lot of levels I am fine with this and I'm researching all the info you need to leave with a babysitter (She be getting a full manual on AJ, of course....). On another level I'm like ohgawdohgawdohgawd.....how can I even consider doing this????!!!!!
Some of it is specific concerns, like will AJ accept a bottle from someone who isn't a parent (she barely accepts it from Mr. Turtle, and then only with major coaxing) and if not how can I work around her feedings. (I've already told my colleague, with some guilt/regret, that I'll be most likely leaving the session early. She is very understanding and I'm hoping that many of our attendees don't want to stay to the end anyway....it is the last session on a Friday.) And I'm trying to think how can I make the situation as safe and pleasant as possible for both AJ and my friend. Sometimes I feel quite confident that I can deal with this. Other times, my mind starts to run on terrible things that could go wrong, because somebody makes a mistake, or just....because.
At the same time I know if I'm really going to go to work again in the fall, I need to practice being away, because there's no way I'll just be able to to leave AJ cold turkey.
Any advice or tips from moms on leaving baby with someone, things I should be thinking of?
Want to know more about Microblog Mondays?